Recent Posts
1
« Last post by FreeKill on Today at 01:15:11 AM »
Ok, that's even better. Good shit.
2
« Last post by AnOldLady on November 13, 2018, 03:20:19 PM »
Wow that is fucking Awesome!

Do you have any Idea when you'll Release the next Version?

Once I've got the npc_replace_model.txt working. Which has no ETA atm
3
« Last post by minmi96 on November 13, 2018, 01:38:14 PM »
Wow that is fucking Awesome!

Do you have any Idea when you'll Release the next Version?
4
« Last post by AnOldLady on November 13, 2018, 12:21:54 PM »
Quick update!
Shortly after adding death animations, I took L4D2 animations and added them onto the HL2 models and it works very well!
https://streamable.com/8jfk0
Death animations have support for headshots (front and back), standard kills (front and back) and shotgun/high impact/high damage kills (front and back)
5
« Last post by FreeKill on November 12, 2018, 11:31:40 PM »
That death animation thing is really interesting. Always look forward to you updating this thread. Keep it up.
6
« Last post by AnOldLady on November 12, 2018, 03:38:20 AM »
12th November 2018
-----------------------
-Mod is now running on Episode 2 (It wasn't before I didn't realise that)
-You should be able to playthrough Ep1 and Ep2 without any problems
-Automatically increased decals amount
-Reduced the number of brain matter splurts on headshots
-Aliens now have yellow blood on damage
-Changed the way blood works slightly, now decals will stain ragdolls more often.
-Death animations implemented!
-Unarmed combat! No longer be helpless without a weapon! Still a work in progress.
<<Death Animations>>
A new feature has been implemented! Death animations! No more of that "just ragdoll". Now you can customise NPC's death animations via a new animation file called "deathanimations.mdl"! You can $includemodel these if you want your custom model to have deathanimations, and you can customise your own deathanimations. On death, there is a chance for these animations to play. Once these animations are done (or specified by you), NPC will ragdoll from there.
NPC's with no support for death animations will just flop to the ground as per normal.
Currently it's using placeholder animations from Valve. I will do a tutorial in the future on how to properly use death animations.
-Will add support for death from behind, front, side, and headshots for variety of death animations.
-Currently only supported Human-type NPCs. That means no vortigaunts.
-New console command added: "sm_npc_has_deathanimations".
-Test of death animations:
https://streamable.com/bro90
<<Unarmed Combat>>
Tired of running around without any means to defend yourself? Lost your crowbar? Just want to punch Alyx in the face? Well don't worry! Now without any weapons, by default you can punch with left and right click! If you have weapons however there is a new button to activate unarmed combat! PUNCH YOUR WAY TO THE CITADEL!
-Currently working on left/right combos
-Need to learn how to animate properly
-New console commands added: "sm_gordon_punchdamage" & "sm_gordon_punchforce"
BUGS FOUND:
-------------------------
-Aliens have red blood on ragdoll
-Shovel attacks are wonky (I knew this for awhile)
-Throwing down weapons and picking them up again refills your mag
-Ragdolls are not obeying the command "g_ragdoll_maxcount" or the ragdoll manager(It's a good thing but I rather have the option)
-Weapon viewmodel goes missing on level transaction.
-NPC freezes and doesnt ragdoll when doing an animated sequence and is killed.
-Mounted gun doesn't shoot bullets
DEV NOTES:
-------------------------
I will release Alpha v0.2 once I get a working npc_replace_model system.
<3
-AnOldLady
=======================
7
« Last post by AnOldLady on November 06, 2018, 05:40:28 AM »
No update this week again. Another prioritise work week
Sorry
8
« Last post by minmi96 on November 03, 2018, 07:23:31 AM »
Are you sure your paths are correct?
Also if crowbar just randomly decided to stop working, I'd check source sdk for missing files and such, redownloading/ checking "game" integrity could be also a good place to start.
Reinstalling crowbar and using fresh config files would also be considered a standard procedure in this situation.

As far as I know there was no updates to steam or SDK that could have caused that, so my bet would be on your specific setup.

Here's my path setup.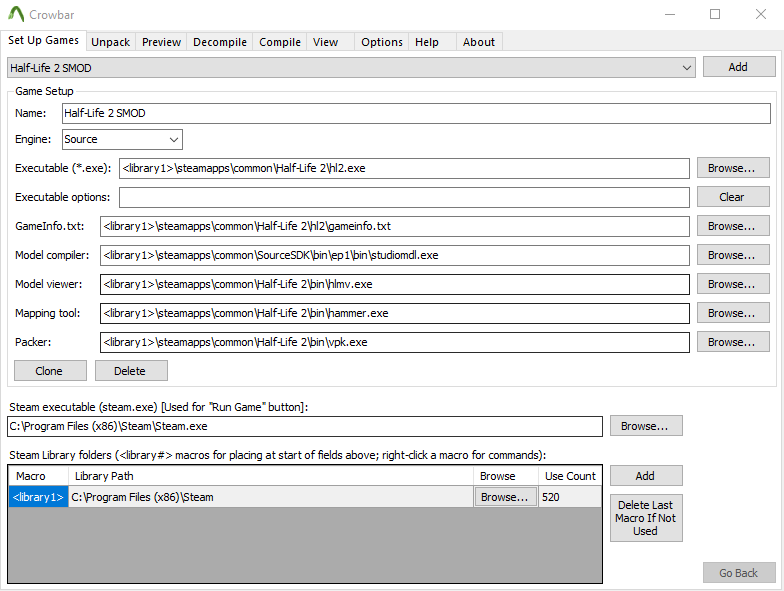 And me decompile setup.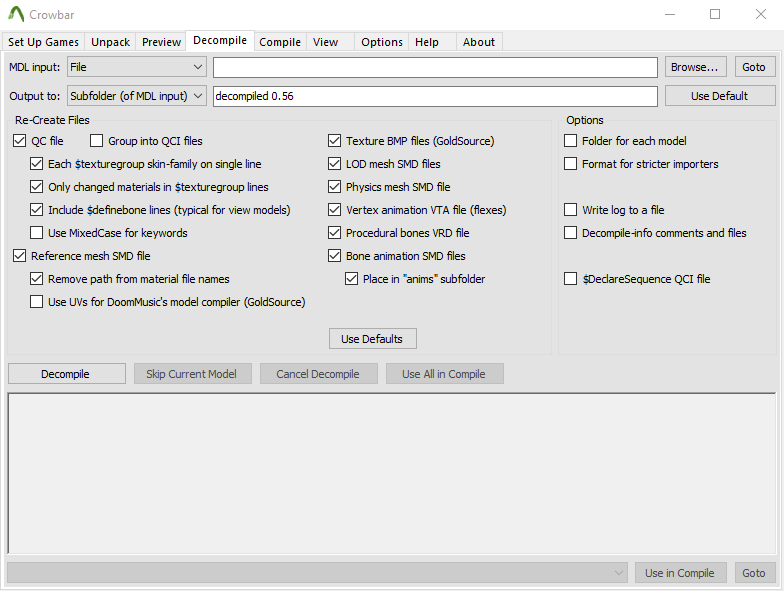 9
« Last post by Pepsifan04 on October 31, 2018, 04:43:54 PM »
Ironsight not aligned when looking up or down except some weapons. This one is weird.
check for locking yaw angle while using ironsights, similiar bug, if not exactly the same, is present in latest smod build
10
« Last post by AnOldLady on October 30, 2018, 03:22:19 AM »
Any potential for mapadds? Not necessarily LUA.

Yes of course it's part of the SMOD core.